Undoubtedly the greatest asset of the Belgrade Fund for Political Excellence is our committed constituency of alumni who come from different segments of political and public life.
Through regular communication, help in selection of new participants in our programs, consultation on new topics and participation in a growing range of BFPE activities (some of them specifically designed for our alumni base), they act as another sounding board of our work and have always been a valuable source of support and inspiration for new endeavors.
Their professional engagement represents tangible evidence of our long-term vision for Serbia, a country that is reformed, adhering to democratic principles and values and being integrated into the wider European family.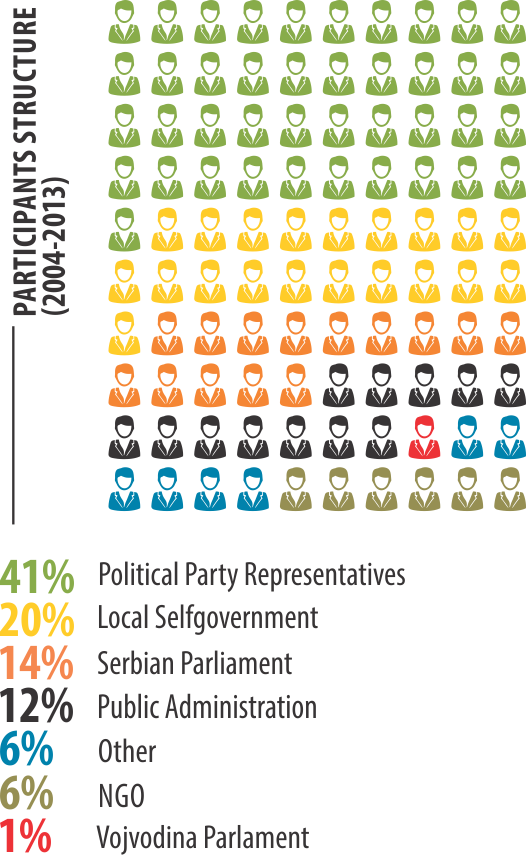 The BFPE alumni network includes well over 2000 people who have taken part in some of our long-term programs.
They include current and former speakers and members of Parliament, Ministers, State Secretaries, Assistant and Deputy Ministers, high-level political party officials, mayors, as well as leaders in civil society, media, and business, and a smaller number of representatives of the judiciary.
Many of these individuals have come to form a practically permanent relationship with the BFPE, always attending new programs in their sphere of work or interest, or returning to our events as trainers or lecturers.
On more than one occasion, a current or past member of our staff was first introduced to our work as a participant.
At the end of each year, BFPE brings together its alumni in traditional year-closing event.