In the neighborhood – meeting of twenty authors from Serbia and Kosovo
March 14, 2019 08:00 pm | March 16, 2019 03:00 pm
KROKODIL Centar
Belgrade, Serbia
Karađorđeva 43, Belgrade, Serbia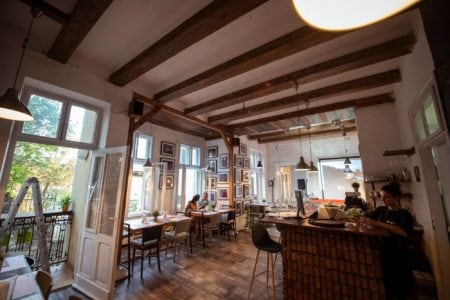 From 14 to 16 March in the Krokodil Centre for Contemporary Literature (Karađorđeva 43) the meeting of twenty authors from Serbia and Kosovo will take place.
The readings will take place on Thursday, 14 March and Friday, 15 March from 20:00 hours. The authors will read in original languages with the subtitled translations. Panel discussions will be held on Friday, 15 March from 11:00 hours under the title In Someone Else's Shoes or the perception of contemporary literature from Serbia and Kosovo from another angle, or how do we see each other and why and on Saturday, 16 March from 11:00 hours under the title New Era or how to improve the cultural and literary communication between Priština and Belgrade and how to influence the embetterment of the media coverage of one another in the two countries. The official working language of the panel is English.
The events are open to public and the entrance is free.
Participants: Rina Krasnići, Marjan Čakarević, Đerđ Filipaj, Bojan Babić, Špetim Selmani, Tanja Šljivar, Arber Selmani, Marija Pavlović, Fjola Hodža, Maša Seničić, Jeton Neziraj, Ognjenka Lakićević, Rona Jaka, Dragoslava Barzut, Azem Deliu, Jasma Dimitrijević, Idro Seferi, Saša Savanović, Genc Kadriu, Đorđe Majstorović.
This three-day event has the goal of contribution to establishment and keeping of stable relations between Serbia and Kosovo through professional ties, which go over the frame of daily politics such as literature and culture connections among the authors of younger and middle generation from Kosovo and Serbia, which are constantly endangered by common past, political situation, as well as huge language barrier.
The program of the event was organized within the project Changing Minds: Trust through Innovation by Belgrade Fund for Political Excellence. The implementing partner is the Association Krokodil. Apart from the meeting of authors this program consists of different activities among which are seven expert symposiums (intended for medical doctors, architects and urban planners), hackathons for IT experts, four entrepreneur fairs, five public presentations of outstanding individuals from Kosovo and other promoting activities.