Foundation BFPE for Responsible Society together with Atlantic Council organized another online session of the Balkan Dialogues dedicated to public health and the regional response to Covid-19 pandemic. Our keynote speakers were Professor Vesna Bjegović MIkanović from the Medicine Faculty of the Belgrade University and Adnan Ćerimagić, Senior Analyst of the European Stability Initiative from Berlin. The discussion was moderated by Dragoslav Popović, UNICEF Consultant from Belgrade.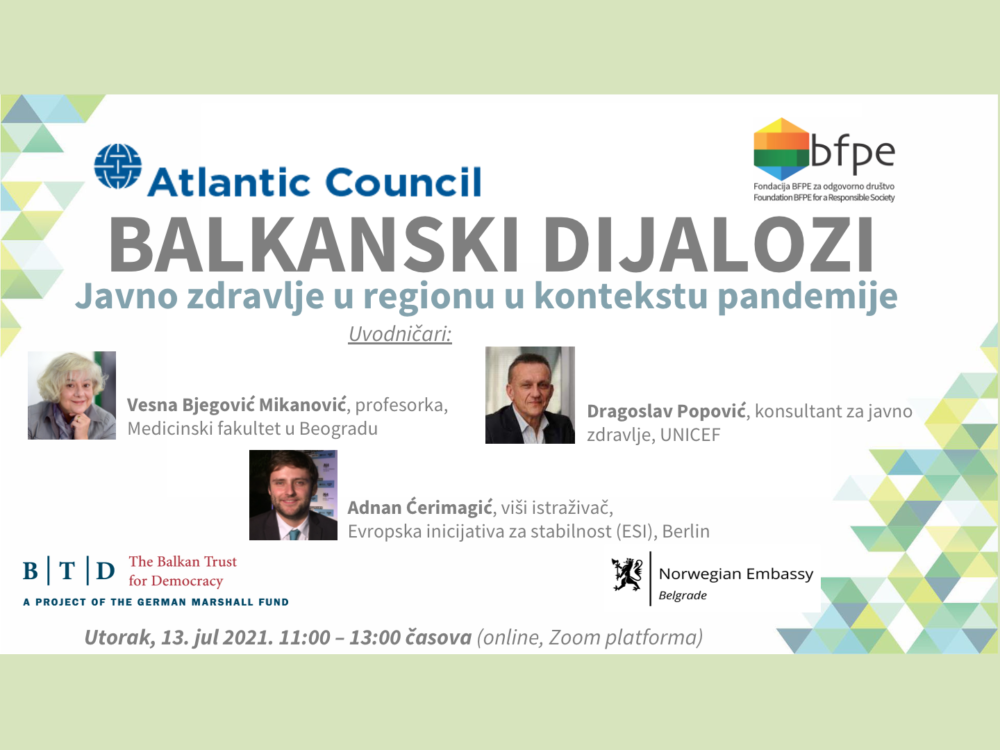 Public health as a part of medical services, heavily neglected in the recent past proved to be of existential importance in the times of the worst pandemic in the last hundred years. Although public health today is almost completely understood in the terms of vaccines availability, early detection of disease and hospital capacities it is of course much more. One of the most important preconditions of the developed public health system is the constant education of medical staff but also the population and in that way prevention of "infodemia" of false news.
One of the conclusions of the discussion is that by continuous cooperation of medical and civil sector, as well as media, in the field of citizens' information an "army of vaccine advocates" could be created.
The panelists tried to answer following questions: what have we learned so far, what could be done better and what are the lessons in the anticipation of the next wave of the pandemic which seams imminent. We do have the WHO recommendations, we have operational strategies but the missing link is a precise plan – what is the actual program against next pandemic waves. Therefore, the main conclusion of the event is the necessity of creation of public health corps. And this corps should consist not only of medical experts but also experts outside the field of medical science – from social scientists to journalists and experts for communication.
Composed of decision-makers and experts from six Western Balkan countries (WB6), including Albania, Bosnia and Herzegovina, Kosovo, Macedonia, Montenegro and Serbia, together with the European Union, the United States, Russia and China – the Balkan Dialogues are designed to help increasing and deepening understanding, while building trust between the representatives of different geopolitical interests present in the region today. The Balkan Dialogues are an initiative of the Atlantic Council of the United States and the Foundation BFPE for Responsible Society.
This event is supported by the Embassy of the Kingdom of Norway and the Balkan Trust for Democracy, a project of the German Marshall Fund of the United States.