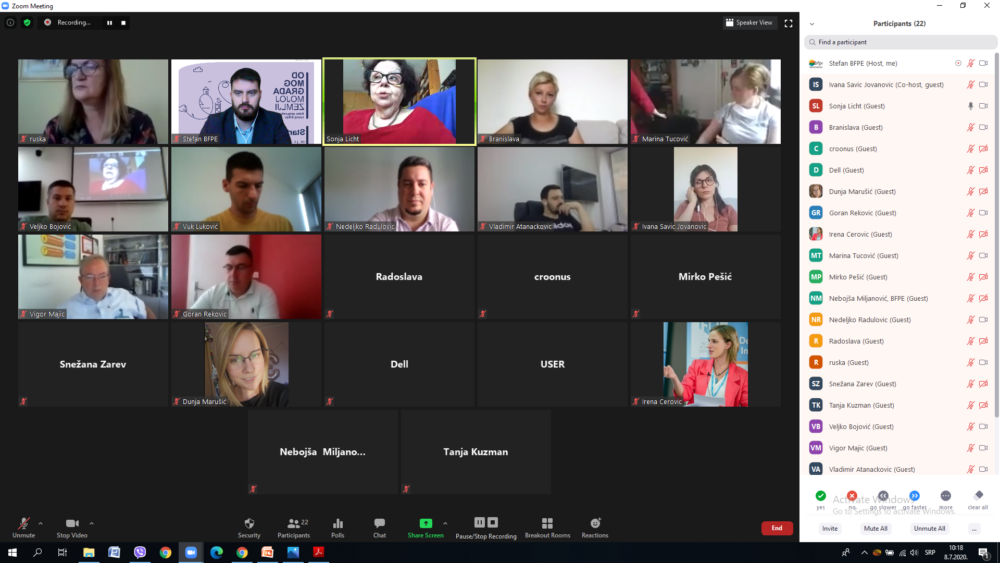 Belgrade Fund for Political Excellence (BFPE), with the support of Deutsche Gesellschaft für Internationale Zusammenarbeit (GIZ) GmbH has organized Startup meetup for 10 local startups on July 8th.
Event started with words of introduction and welcome from Ms. Sonja Licht, President of BFPE who has shared the experiences from the project "From my Town to my Country" and presented the idea of the Startup meetup to the participants.
Second part of the event was dedicated to the presentation of 10 local start ups that are contributing to the local development and have been a potential for the further investments in the local communities. 10 local start ups have represented the 8 local self-governments that are integral part of the project: Sombor, Zrenjanin, Šabac, Zaječar, Užice, Priboj, Čačak and Pirot.
Ms Jasmina Borić from Sombor presented her family Start Up ''Sirbor'', and has pointed out the potential of agriculture in northern part of Serbia as well as domestic, local food production. Pirot start up scene was represented by company "Loghandehouse", the producers of wood cabins. Wood industry and woodworking as a potential of southern Serbia and Pirot were additionally boosted by the normative framework in that community.
Priboj's startups were represented by those producing home furniture, Mr. Stefan Otašević introduced his up and coming company and shared his experiences of establishing small business in Priboj.
Textile industry was represented by ''Retex'' now established company, but not so long ago a start up from Užice that is particularly important because of mixture of corporative business and social responsibility, because their whole business is based on recycling of old textile. Ms. Marina Tucović presented the work of ''Retex''.
''Prostor za Pomak'' is both a start up and a place for bringing together youth in Zaječar, providing space for the development of new ideas and projects in Eastern Serbia. Ms. Dunja Marušić presented the work of ''Prostor za pomak''.
Mr. Vladimir Atanacković introduced the ''Tableta'' mobile app, developed in Šabac but now with the global outreach, showing that IT industry in Serbia has been on the rise in recent years.
Besides Šabac, Serbian IT sector was also represented by three start-ups from Čačak: ''Ponuda i potražnja'' an online platform for business to business communication in the section of commerce and company representative Branislava Radojičić, Croonus Technologies presented by Stefan Ćebić and ''Pijaca Čačak'' presented by Nedeljko Radulović.
Besides developments and local potential in digital sphere, participant from Zrenjanin showed that start-ups in Serbia could also be successful. Milanka Furtula from ''Veliko Srce'' presented the work of this now successful association that has started as an informal group of women who were producing traditional products from Vojvodina and Serbia.
Besides start-ups, two representatives from local and regional business hubs have participated in the Startup meetup. Mr Mirko Pešić, director of Science and Technology park in Čačak, one of four such establishments in Serbia, and Veljko Bojović, from Regional Innovative Center. They have presented the work of two hubs and the potential of the development of new businesses in Serbian local communities.
Start up and hub representatives were joined by representatives of partner organizations from local level who were actively participating in the preparation of the event.
Finally, as observers, UNDP Accelerator Lab and Petnica Science Center have participated.
Third part of the event was dedicated to the exchange of experiences between participants and was establishment of potential cooperation between participants who have expressed satisfaction that they were part of this initiative. For the next steps, it was concluded that the start ups should be included in the local debates because their experiences and visions could be highly beneficial for the future development of local potentials, both investment potential and overall development potential.
Startup meetup was concluded by the final remarks and conclusions provided by Ms. Sonja Licht.