3rd Regional Youth Forum
June 29, 2018 12:00 am | July 1, 2018 12:00 am
Galerija Matice srpske
Novi Sad, Serbia
Galerija Matice srpske, Трг галерија, Novi Sad, Serbia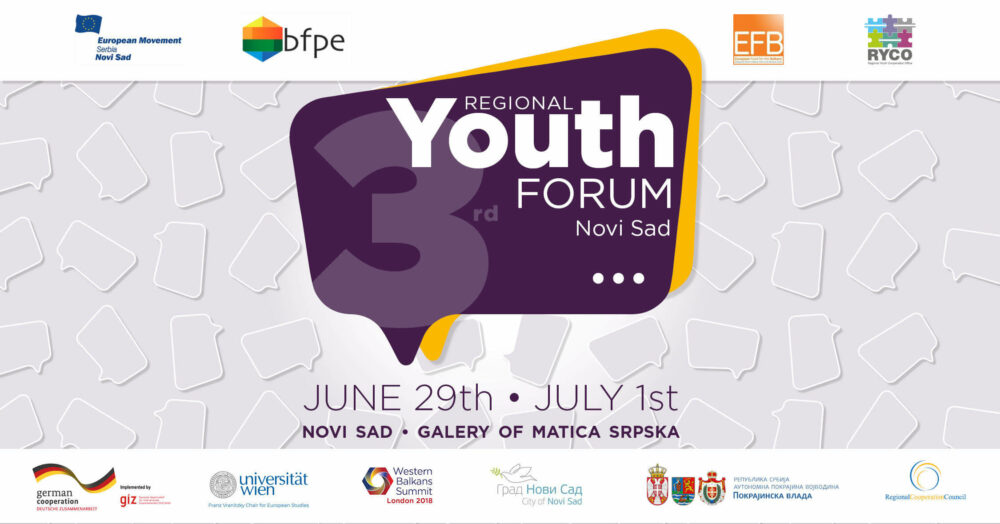 Third Regional Youth Forum (RYF) will be organized in Novi Sad, Serbia, between the 29th of June and the 1st of July 2018. RYF is organized by the European Movement in Serbia – local branch Novi Sad, the European Fund for the Balkans, the Belgrade Fund for Political Excellence, and in partnership with the Regional Youth Cooperation Office (RYCO) and the Deutsche Gesellschaft für Internationale Zusammenarbeit (GIZ) – ORF Promotion of EU Integration.
Our aim is to gather 200 young opinionated leaders, between 18 and 35 years old, with a proven record of making an impact in their communities and provide them with space of knowledge and dialogue.
The conclusions of the RYF will be presented at the upcoming Berlin Process annual summit in London, at the 8th edition of the Belgrade Security Forum, and the 2018 "Young Bled Security Forum".
Agenda – Third Regional Youth Forum 2018