On December 15, 2021, the final conference on the project "From my city to my country" was held at the Mona Plaza Hotel in Belgrade, organized by the Foundation BFPE for Responsible Society, with the support of the German Agency for International Cooperation (GIZ).
The project lasted for 2 years and included local debates in 8 different cities – Uzice, Priboj, Pirot, Zrenjanin, Zajecar, Sombor, Sabac and Cacak. The debates brought together representatives of local communities (local self-government, NGO sector, prominent citizens and representatives of national minorities) to work together to encourage debate on recognizing local specifics and identities as well as the importance and role of local communities in Serbia's development.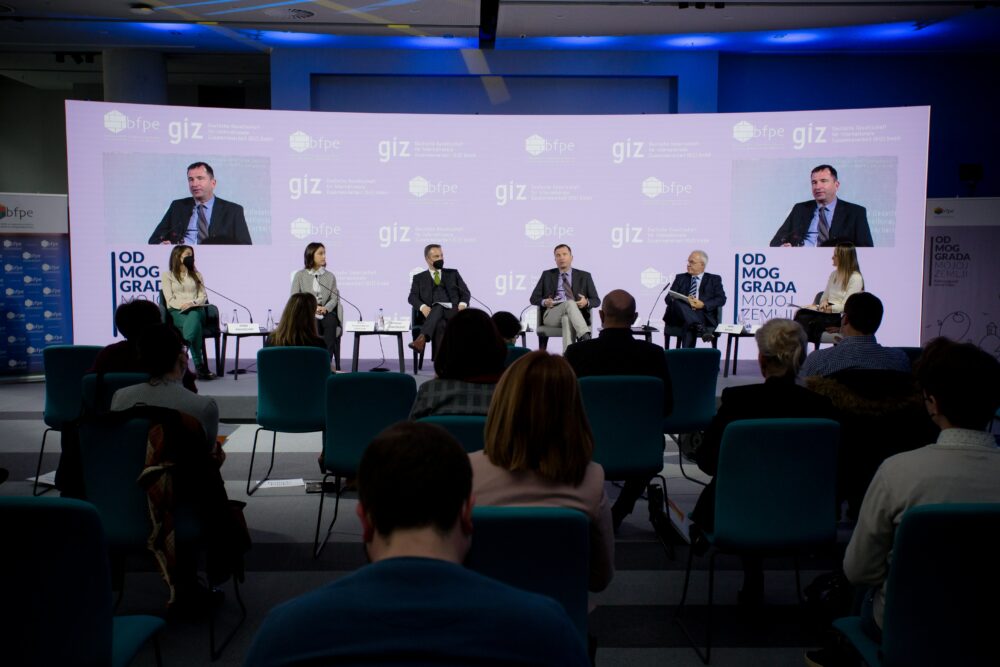 The final event was opened by Brankica Janković, Commissioner for the Protection of Equality, Sonja Licht, President of the Foundation BFPE for Responsible Society and Danijela Funke, Director of GIZ in Serbia. The first part of the conference concerned the role of the international community in encouraging local development, which was discussed by Sasa Mogic on behalf of Ministry of State Administration and Local Self Government, Martin Klauke on behalf of the Delegation of the European Union to Serbia, Milovan Filimonovic on behalf of the UNDP in Serbia, Melina Papadjordjo Tripoli on behalf of the Swiss Cooperation Office.
In the second part of the conference, representatives of Sombor, Pirot and Zajecar spoke about the role of local self-government in encouraging development at the local level. At the very end, a publication was presented containing the conclusions and recommendations made at each local debate in the previous two years.