Within what was a very interesting and dynamic initiative of our colleagues in the Open Parliament, the "Parliamentary Week" (or the "Week of parliamentarism"), BFPE was present together with its partner organization the Center for Modern Skills. To our great satisfaction, three informal parliamentary groups whose work in some way we support, or which establishment we have initiated were presented.
MP Dejan Radenkovic stressed how the Green parliamentary group was the first informal parliamentary group when it was formed back in 2009.
"The group has 28 members, 19 from the ruling parties and nine from the ranks of opposition, and we gathered around general rather than political interests. We have organized lectures on various topics in the field of environmental protection, we meet regularly, so there is continuity in our work. The priorities of the Green parliamentary group have been so far to influence legislation, to learn more about Chapter 27, to jointly submit amendments, said Radenkovic.
In front of the Women's Parliamentary Network spoke MP Gordana Comic, stating how the immediate reason for the establishment of the Network was the law adopted by the previous convocation of the parliament, which stipulated that at least 30 percent of the seats should belong to women. Comic pointed out how, at the time of the establishment, MPs of all parliamentary groups gathered together and wondered what it is that they, as innovation can offer to both the Assembly and the people of Serbia.
"We have established a dialogue, but the essence of this dialogue was the idea of ​​innovation and our voluntary work. We gathered together and consider whether, and with whose help, we can form a body that would carry out various tasks. As members we decided to leave our differences aside and focus on combating violence against women, help improvement of women's health and promote economic support to women," said Ms Comic.
The work, jurisdiction and structure of the Parliamentary Forum for Energy Policy in Serbia was presented by MP Aleksandra Tomic. Tomic said that the Forum was established on 29 June 2015, and that in the first moment it included 14, and now has 21 members from several political parties.
"Following the example of the European Parliament, which has already established an informal parliamentary group that focuses on the topic of renewable energy sources and energy efficiency, we considered it necessary to create an informal parliamentary group which will deal with the issues of energy and climate change. We have had four sessions thus far and it is important to stress that we have been joined and supported by Belgrade Fund for Political Excellence. Forum has a strong initiative, we have created a calendar of activities and we have been granted support from GIZ, UNDP and the Westminster Foundation," said MP Tomic.
On Tuesday, 20 October, Green parliamentary group held five-minute meetings with representatives of civil society, based on the principle of so-called "speed ​​networking".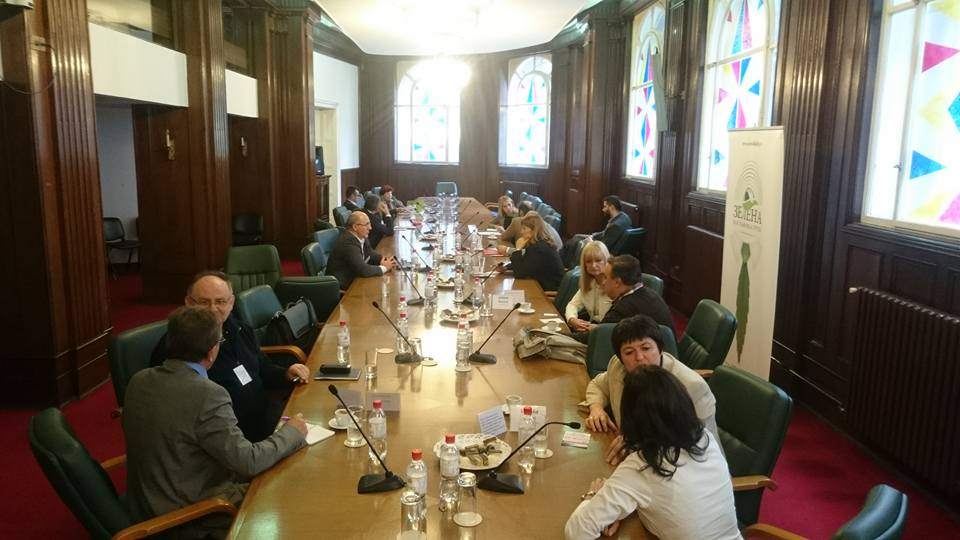 The moment the bell was sounded, MPs and representatives of civil society would switch and start talking with another participant in the meeting.
Members of the Green parliamentary group MPs Krstimir Pantic, Mirjana Djokovic, Ljiljana Kosorić Velinka Tosic, Jezdimir Vucetic, Katarina Rakic, Jovan Markovic, Nevena Stojanovic, Nada Lazic, Ivan Karic and Prof. Janko Veselinovic hosted representatives of Serbian Vlachs, Civic Library Europe, the Association for the Development of Bor municipality, Association of Citizens Krusevac Ecological Center, RES Foundation, Eco Center, Novi Sad cycling initiatives streets for cyclists and SAN EKO.
In preparation of this text we have used materials and photos from www.nedeljaparlamentarizma.rs