A coordination and planning meeting of the ROMACTED II Support Team program in Serbia was held on 10 May at the Council of Europe Office in Belgrade. The meeting was attended by the CoE representatives, the Foundation for a Responsible Society as a support organization, and local facilitators from 14 partner cities and municipalities in Serbia.
The results and activities were presented by the local facilitators for the period until 30 April. Planning was discussed for future activities, as well as synergies with other Council of Europe programmes and projects.
Ms Nadia Ćuk, Deputy Head of the Council of Europe Office in Belgrade and Ninoslav Mladenović, Senior Project Officer, shared more insights about other activities which are lead by the CoE Office in Belgrade.
ROMACTED team of facilitators in Serbia expressed support towards the Block the hatred. Share the love. campaign, which is implemented within EU-CoE Horizontal Facility II action "Promotion of diversity and equality in Serbia".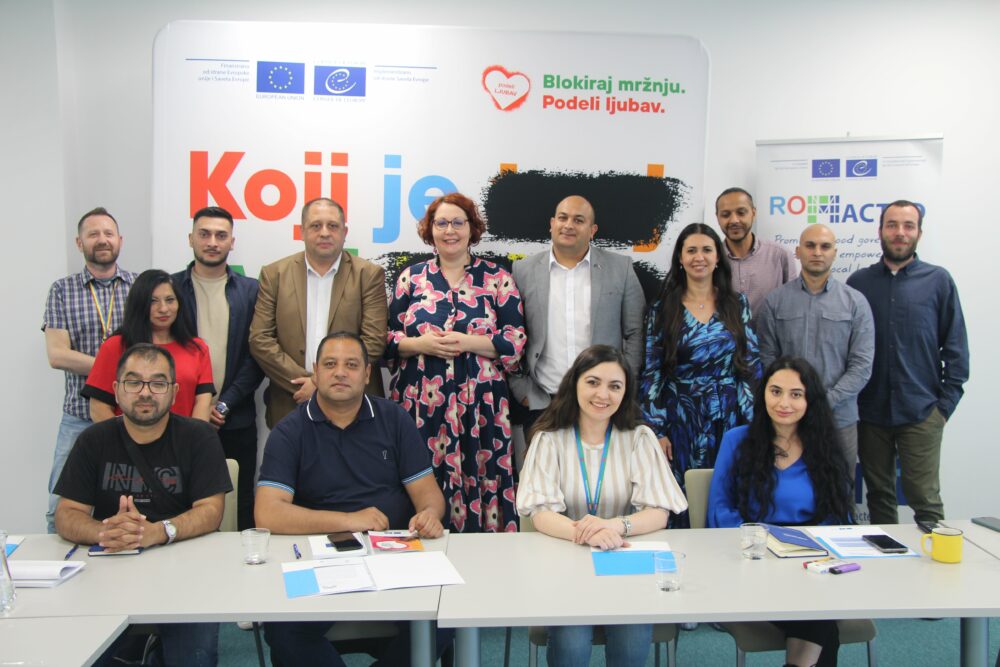 "𝘗𝘳𝘰𝘮𝘰𝘵𝘪𝘰𝘯 𝘰𝘧 𝘥𝘪𝘷𝘦𝘳𝘴𝘪𝘵𝘺 𝘢𝘯𝘥 𝘦𝘲𝘶𝘢𝘭𝘪𝘵𝘺 𝘪𝘯 𝘚𝘦𝘳𝘣𝘪𝘢" 𝘴𝘶𝘱𝘱𝘰𝘳𝘵𝘴 𝘬𝘦𝘺 𝘭𝘰𝘤𝘢𝘭 𝘢𝘤𝘵𝘰𝘳𝘴 𝘢𝘯𝘥 𝘣𝘦𝘯𝘦𝘧𝘪𝘤𝘪𝘢𝘳𝘺 𝘪𝘯𝘴𝘵𝘪𝘵𝘶𝘵𝘪𝘰𝘯𝘴 𝘪𝘯 𝘚𝘦𝘳𝘣𝘪𝘢 𝘢𝘯𝘥 𝘵𝘩𝘦 𝘞𝘦𝘴𝘵𝘦𝘳𝘯 𝘉𝘢𝘭𝘬𝘢𝘯𝘴 𝘪𝘯 𝘵𝘩𝘦 𝘧𝘪𝘨𝘩𝘵 𝘢𝘨𝘢𝘪𝘯𝘴𝘵 𝘥𝘪𝘴𝘤𝘳𝘪𝘮𝘪𝘯𝘢𝘵𝘪𝘰𝘯, 𝘩𝘢𝘵𝘦 𝘴𝘱𝘦𝘦𝘤𝘩 𝘢𝘯𝘥 𝘩𝘢𝘵𝘦 𝘤𝘳𝘪𝘮𝘦𝘴 𝘥𝘪𝘳𝘦𝘤𝘵𝘦𝘥 𝘢𝘨𝘢𝘪𝘯𝘴𝘵 𝘮𝘪𝘯𝘰𝘳𝘪𝘵𝘪𝘦𝘴, 𝘓𝘎𝘉𝘛𝘐 𝘱𝘦𝘰𝘱𝘭𝘦 𝘢𝘯𝘥 𝘰𝘵𝘩𝘦𝘳 𝘷𝘶𝘭𝘯𝘦𝘳𝘢𝘣𝘭𝘦 𝘨𝘳𝘰𝘶𝘱𝘴 𝘰𝘧 𝘵𝘩𝘦 𝘚𝘦𝘳𝘣𝘪𝘢𝘯 𝘴𝘰𝘤𝘪𝘦𝘵𝘺.