Having in mind how important the challenges brought by the COVID-19 pandemic and the consequences it will leave on the Western Balkans, on its societal fabrics, often difficult relations between countries and entities as well as various geopolitical influences, we wanted to address issues and processes essential for regional cooperation. One of these issues is regional economic cooperation and integration. This is the reason why we dedicated the latest edition of Balkan Dialogues to this important part of the regional integration, assessing at the same time the convergence of the existing models as well as their implementation in practice.
The participants of this edition of Balkan Dialogues were Tanja Miščević – Deputy Secretary General of the Regional Cooperation Council, Jim O'Brien – Vice Chair of the Albright Stonebridge Group, Washington D.C. and Matej Zakonjšek – Director of the Transport Community Permanent Secretariat. Moderator of discussion was John Jovanovic, Managing Partner of the Joda Group.
Opening the event Damon Wilson, Executive Vice President of the Atlantic Council posed the first question – how do we stay focused on "moving Balkans forward"? He said how Atlantic Council aims to facilitate concrete steps among the leaders to facilitate the "post-COVID boost" of the economy.
Sonja Licht, President of the Belgrade Fund for Political Excellence thanked the partners that enabled the organization of this edition of Balkan Dialogues and asked all the participants to act with all their hearts and knowledge, hoping to will bring something new to the entire region.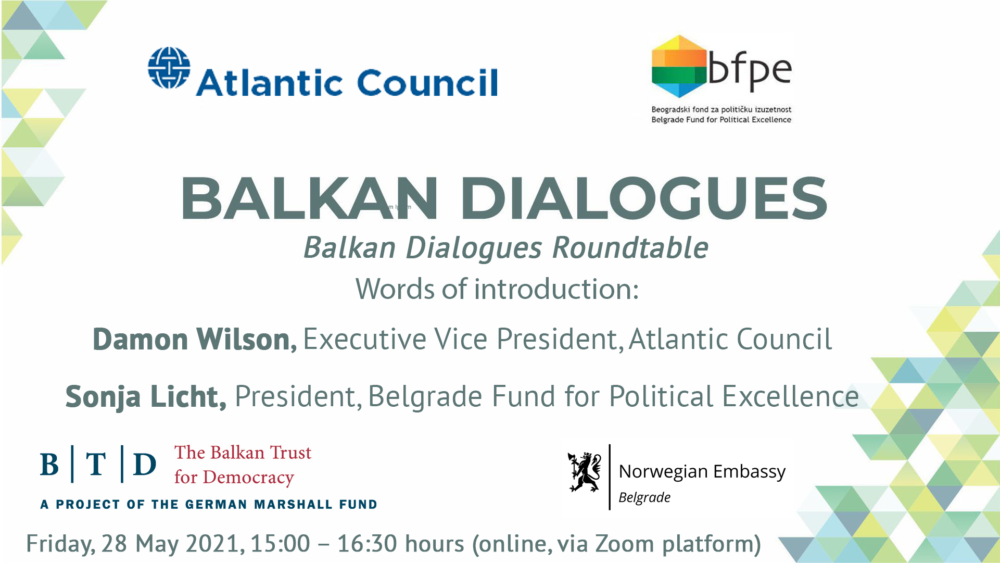 Common Regional Market
John Jovanovic asked the panelists the first question – With the debut of common regional market last fall, various approaches appear to ducktail one another. Here we are midway through 2021, and where are we on this journey?
Tanja Miščević started with where are we in terms of reaching deliverables for the Berlin Process summit. She briefed the participants that Germany is engaged in talks with "sherpas" from WB foreign ministries what they should deliver – on travel documents and mutual recognition of diplomas. She said how all four agreements are still not in place because it is difficult to negotiate this type of document; it touches upon the dialogue between Belgrade and Pristina; therefore, we have to be very cautious. Mentioning the Green Agenda for the WB she said that we only have a declaration, and now we have to define a set of measures how to reach EU's stated goals for 2050. That document is going to be prepared in all of its elements (incl. recycling, climate change, biodiversity) for Slovenia's EU Presidency summit in the second half of the year.
Jim O'Brien emphasized that it would be great to reinforce RCC, since too often our processes are divorced from everyday life. Hopefully we would then have a true Balkans dialogue, with a true American commitment, touching upon both economy and hard security issues.
Matej Zakonjšek said that his role is to ease transport and connectivity – it should be not about planes and trains, but what this brings. Saying that the "network effect" is important, he also claimed that we need to think regionally and implement locally. Let's start thinking how to connect with neighbors, EU neighbors included, said Zakonjšek.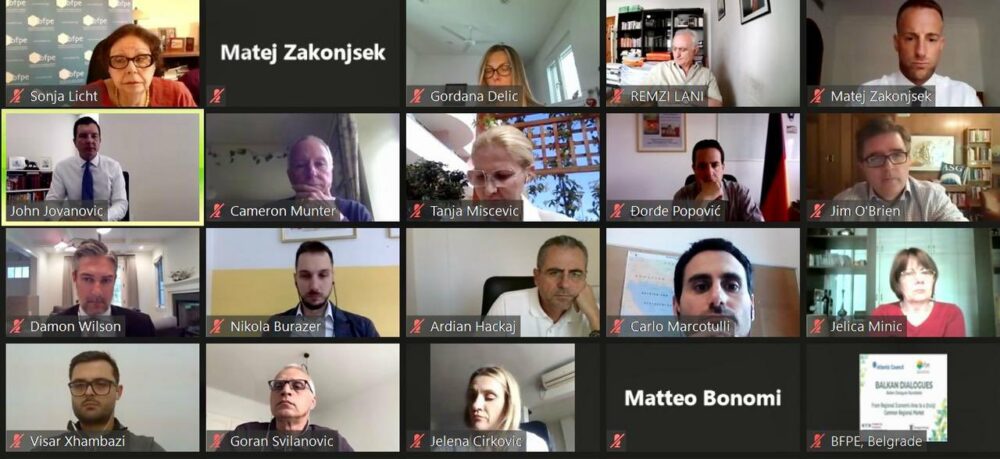 De-carbonization and energy
Next question concerned big energy companies and how will this principle come together in WB.
Jim O'Brien said that "Macron talks about the end of the world while citizens are concerned with end of the month". Strong, "green" economic agenda has to start with people's health. Sarajevo, Belgrade, Pristina are among three most polluted capital cities. Politicians say it's a mark of prosperity – "it was in 1888, perhaps". Yugoslav era infrastructure and plants are getting old – so the big question is do we invest in them, or get something new? And another issue that O'Brien raised is the question where's the new money going to come from to this region? A lot of EU's investment institutions, otherwise available will not go into the region because they are meant to be "green". And in that way, we are going to miss all this money.
From political leaders one can hear an honest answer – our economy is growing, maybe we have to move away from coal. But heating in seven biggest cities in Serbia is powered by coal and people won't be able to get jobs unless it's through green transition. Most of the stuff getting offered to the region is "concrete and asphalt".
This is an area for invigorated US engagement, thinks O'Brien. It's a place where small amounts of money available through DFC can trigger bigger EU assistance. Giving the credit to senior leadership in the region he said that it is good to have people who will sit down and identify large green transition projects.
Goran Svilanović agrees that greening of the energy mix is going to be the key process in the years to come. And this is the one we are all in the region very much late. There is no big energy generator being built at the moment. As we speak there are two private investors interested to invest in photovoltaic in Serbia, 250 mw and 150 mw. This is important. But in parallel there is public pressure increased on the government to go for Kolubara II coal power plant. Matej Zakonjšek spoke rightly about electrification of transport. Svilanovic asked where will the electricity come from? I just wanted to bring to attention of all the importance of the energy transition and very, very slow reaction of all our governments. Not enough has been done to explain to the broader public the importance of the Energy Community and the targets developed in close cooperation with EU in the energy field. Geopolitical importance is huge! We are missing in this conversation another Slovene, the head of the Energy Community. The energy transition is as important as RoL in my eyes, and I would like to invite the US and EU, and political leaderships, to go for it. The money is there.
Digitalization
John Jovanovic underlined as key lesson learned from the pandemic, the value of digitalization.
Tanja Miščević said that RCC is now scanning the situation. She said RCC noticed that women are also very much interested in upgrading their knowledge of using or going digital. Third part of the work is research and development, as part of the innovation agenda. "Roaming at Home" is the first step, the next one is to include the whole EU in it (enlarging it with the EU). This does not only depend on states, but private companies as well.
Slow pace of political process as one of the biggest obstacles
Matej Zakonjšek said that this is a new business model, deciding whether companies in the future will succeed or not. The whole world is entering the age of electricity and clean energy. We see more electric cars, hydrogen cell trucks, LNG ships. Connecting it to WB, he said that Transport Community is working together with their partners in order to achieve sustainable and smart transport in the region. When it comes to transport, we see a big shift to greener and more sustainable transport. That specifically means, rail and rail infrastructure. Even for the roads, projects will need to show a strong green component.
Jim O'Brien said that he worries that bureaucratic infrastructure is oriented to projects political leaders like and that green projects are still small-scale.
John Jovanovic pointed out that one should strike delicate balance between governments and private sector demands and Matej Zakonjšek added that infrastructure projects need to go hand in hand with the reform processes. There is need to work on two parallel tracks.
Another problem that was brought by Tanja Miščević is that there is enough money, but we will not be able to use it. This is the harsh truth we need to have in mind. Capacity of governments is not enough and we must include WB6 in programs to learn how to use IPA funds better. We are not using even the available money for the green recovery.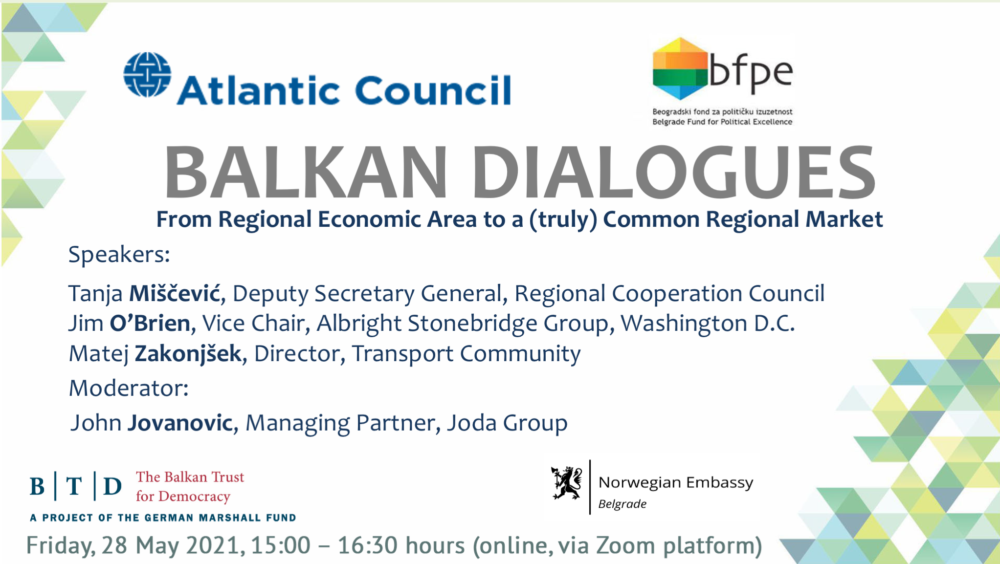 Questions from the audience were:
What does Kosovo have to gain, on what Jim O'Brien answered: Everything – it's landlocked, it's future depends on being wired to the rest of the region. It's economically not competitive, and that's critical. Kosovo has "suffered" from international engagement, but it has amassed significant experience, why not use it.
On mini-Schengen and Common Regional Market as parallel processes Tanja Miščević responded, I don't care how they call it if it is producing results for Common Regional Market. Of course, I understand that mini-Schengen is catchier, but we see that parties are also respecting what is agreed in Sofia summit.
On waiting times at borders with EU members, Matej Zakonjšek commented, borders should not be source of frustration. We know the statistics… Logistics is more expensive here than in the EU. More waiting time means more degradation of the roads and pollution. We have established green lanes for perishable goods and medical equipment. It took us only one month from the idea to implementation. Border management as a topic needs a top-down approach. Where we need a clear dedication from the top, very much recognized from all the leaders in the region.
What do we expect politically in the next 6 months? Jim O'Brien said European Commission should engage civil society more, the hard question is how. There's a need to have couple of European countries more present, like Austria, for instance. More transparency to citizens on what is being done – where the center of gravity is? I.e., we do two railways, how does it change the region. We need a scorecard. There is a fabulous renewable energy project, but it is not clear whether renewables will make majority of power being produced in the region. Scorecards could motivate citizens and politicians. My hope is to get these things in the next few months.
Tanja Miščević continued, Berlin process was built to improve connectivity. Here we are improving. How to use this acquis from the Berlin process, to make it even stronger, and here we are working on more ownership for the region. I am sure that the summit in Ljubljana, as well as Bled Strategic Forum will focus more on displaying the ownership by the region, which we don't have. 
And finally, how to make sure that this positive notion of regional cooperation does not become in the future a vehicle for the kind of cooperation we would like to discourage?
Matej Zakonjšek answered, only if we do not allow with our (EU's) investment and recovery plan for the things to go in such directions… to continue in a positive way and not to scatter.  Citizens understand very well when the transport network works, and when it doesn't work. Important goal is to communicate better.
John Jovanovic said, the more we focus on solving the problems of today is crucial. In terms of public health, competitiveness… we all want the region to be more competitive. 
And finally, Srdjan Majstorović commented, how creating these cross-border networks depends on communication, but it then depends on credibility, doing what you are preaching.  
Sonja Licht closing
In her closing words Sonja Licht said that we need to build a broad coalition in support of this process. We also need this (in)famous political will. But be aware, the pressure from bottom up is rising. Every single day something is happening in Serbia. Outstanding pubic figures joining civil society (referring to actress Svetlana Bojković gesture, "defending" Bara Reva nature preserve near Belgrade). We need to continue these reflections, how to bring together the middle ground, make sure that those who are powerful enough to influence – associations, trade unions, socio-economic councils, local governments, are present, because this is "to be or not to be" for them… we need a new "contact group" that would deal with this topic, together with the energy community… I hope we can come up with a consistent message and it needs to be as efficient as possible – if our region really wants to remain on European path.