Results of the one-year long project Regional Policy Academy, which Belgrade Fund for Political Excellence implemented together with our partners from European Fund for the Balkans, were presented on Monday, January 30 at the European Policy Center in Brussels.
Almost thirty participants took active part in the discussion, which followed the presentation of four different scenarios on the youth cooperation in the Western Balkans by the year 2020. The scenarios were presented by the participants of the Academy – Tanja Tomić, Member of the Central Board of Social Democratic Alliance of Macedonia, Elena Bodeva, Policy Officer in the Macedonian Ministry of Foreign Affairs, Milena Lazarević, Program Manager of the Centre for European Policy from Belgrade and Ivana Vukašinović, Head of Unit for coordination of implementation of public policies in the Public Policy Secretariat of the Government of Republic of Serbia. Corina Stratulat, Policy Analyst in the European Policy Centre, moderated the discussion and Wout van Caimere, Coordinator of the European Parliament Youth Group had the role of discussants on the presented scenarios.
The relevance of the discussants and quality of the discussion was influenced by the fact that the event was closed to general public and the invitations were sent only for the European Policy Centre members and the representatives of the European institutions who are engaged in the Western Balkans region.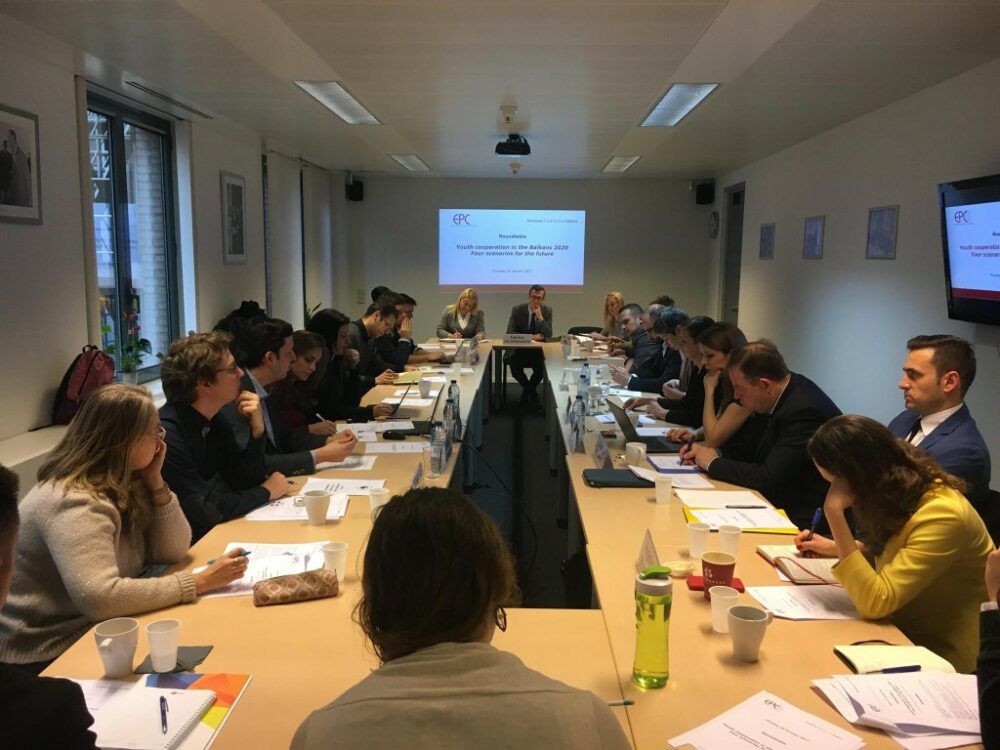 These scenarios are the product of work of the group of 21 participants of the Academy – politicians, civil servants and think-tankers from Croatia, Bosnia and Herzegovina, Serbia, Montenegro, Albania, Kosovo and Macedonia.
The participants of the Academy, using the method of strategic foresight, came to the conclusion that relations among the youth in the Western Balkans the key for the success of the European integration as well as the stability of the region. They had the opportunity during whole year to get acquainted with the strategic foresight method and than to apply it in order to identify the issue, which they think is most relevant for cooperation among Western Balkans countries. After that they developed possible scenarios for the future position of the youth in the Western Balkans.
The Swiss Confederation Federal Department for Foreign Affairs through Swiss Embassy in Serbia and Montenegro and the European Fund for the Balkans supported the Regional Policy Academy project.