Second RAD seminar in 2014 organized in Skopje
Debating labor rights, social dialogue, and the withering of the welfare state in the Balkans
With our partners in Macedonia, the Centre for Research and Policy Making (CRPM), our second seminar taking place in Skopje from 8 to 11 May is well under way.
This time, we are debating an important socio-economic issue: labor rights in times of prolonged economic crisis. A number of distinguished academics, policy makers and public figures have been invited to present and share their insights.
After introductory remarks and words of welcome from CRPM President Zhidas Daskalovski and RAD Executive Director Marko Savkovic, seminar was opened by Deputy Ombudsperson Ms. Vaska Bajramovska Mustafa, who presented the most typical instances of breaching workers' rights in Macedonia: cases of mobing (most difficult to be proven); complaints of injuries sustained at work; and failure of the state to provide social protection.
This was immediately followed by an interesting twist: Mr. Ognen Antov, a succesful producer based in Skopje, screened the documentary "Who Needs Sleep", centered on experiences from set in the United States, where long working hours and sleep deprivation have contributed to a number of fatal incidents. Interestingly enough, our participants immediately symphatized with the story: citizens maybe seeing politicians working 24/7 "as a spin", yet, strains of work are running high, especially for women and young people willing to enter politics. Debate ensued, where many could be heard saying how "this is the profession we chose", therefore, there should be no complaining; adding how in other professions all workers must be protected by law, guaranteeing normal working hours and regular salary.
That these rights are far from being won in Macedonia, spoke Prof. Zdravko Saveski of FON University Skopje. Violations of workers rights, in his opinion include: not paid social security contributions; protection at working places not respected; overtime work not paid; and political pressure, exercised when forming trade unions is being prevented. His panel was immediately followed by presentation of Mr. Emil Krstanovski, representative of International Labor Organization in Macedonia. Youth unemployment coupled with brain drain is recognized as a key issue for the entire WB region.
We continued our program in Skopje with Prof. Maja Gerovska-Mitev, with the aim to debunk some of the myths surrounding the concept of welfare state. She opened her presentation explaining what, in her opinion, constitutes welfare state: employment, social insurance and social protection. After thoroughly analyzing two dominant models – the liberal and social-democratic one – she opened the discussion, by comparing the social welfare system in former Yugoslavia with more recent, neo-liberal tendencies across the region and concentrated participants' attention on reforming the pension system, which is increasingly becoming untenable.
Ms. Mitev concluded her presentation by saying how "it is not true that we are spending too much on social welfare"; rather, we are not planning properly, as we (as Western Balkans societies) lack statistics, copy-paste solutions, and introduce active measures which are unproductive.
Then came the highlight of day two: three of RAD's 2013 alumni representing Macedonia – Lindita Shakiri, Tanja Tomik and Maja Morachanin – organized our participants in working groups, with the aim to moderate an imagined assembly where interests of workers and employers would collide. Participants enjoyed the workshop, which stressed all the well-known lines of division: low wages against high market pressures; lack of protection of workers' (citizens, in that regard) rights against increasing demands of the employers, and – close to non-existent social dialogue, instead of an inclusive debate predating the (imminent) adoption of new, more liberal labor legislation.
Day three, also, started with an unorthodox introduction. Zhidas Daskalovski spoke of one project that has centred many's attention to Macedonia more recently – the "Skopje 2014" project, which is still on-going. He ran participants through photos depicting Skopje's development – from ancient, then Ottoman, to Yugoslav and now modern city. The ensuing discussion centred on pro et contra arguments, out of which many dealt with the presumably positive effect on labor market, as well as is this project today a uniting-or divisive factor in Macedonia's development.
After a great opening day with Ognen Antov, one could only expect more when he presented award-winning documentary he produced, "The Seamstresses". This documentary deals with everyday hardships of women working in one of few remaining textile factories in Shtip, earning 200 euros per month and struggling to make ends meet for their families as men are mostly unemployed. Familiar topics of womens' rights, gender gap, effects of the break-up of Yugoslavia and globalisation were all debated.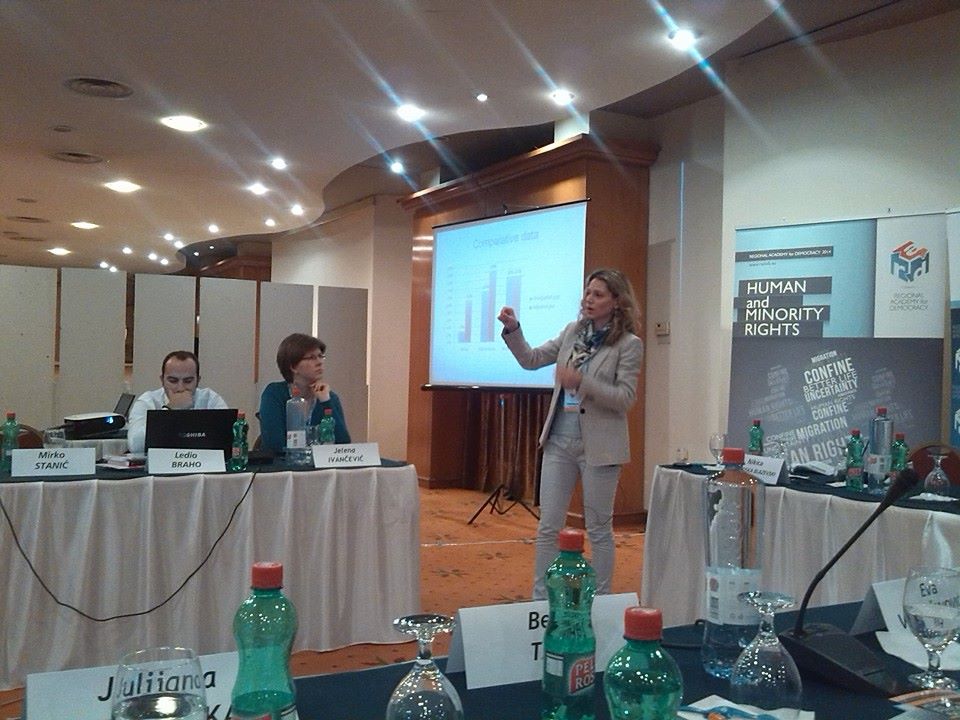 Finally, we concluded day three program with Prof. Nikica Mojsoska-Blazhevski, who explained in great detail – on the basis of original research – what is gender wage gap constituted of in Macedonia, as well as in other two Western Balkans countries, Serbia and Montenegro. She said, how 30% of it is clear discrimination, while the remaining 70% are those factors which are hard to observe, although they are pretty much rooted in prejudice – such as "that men are risk-takers, while women aren't".
RAD concludes its program in Skopje tomorrow with a panel with Mr. Igor Jovanovski and Ms. Aferdita Hadzijaxa-Imeri, speaking on the reasons contributing to the withering of welfare state.