Program Coordinator in the BFPE Marko Savkovic guest presenter at the fourth seminar of the "Mother Teresa" school of public policy, Skopje
As BFPE's team organized the second seminar of the Regional Academy for Democracy in Skopje in 2014, our partners from the Centre for Research and Policy Making (CRPM), invited Program Coordinator in the BFPE and Executive Director of RAD Marko Savkovic to deliver a presentation on Serbia's on-going negotiations with the EU.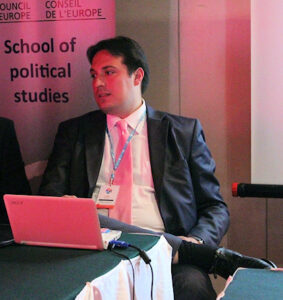 In his presentation, Marko attempted to close in the very process of negotiations, its more technical aspects, as listeners were all engaged in Macedonia's public policies, either from the position of politicians and decision makers, or professionals working in state administration. He paid special attention to challenges in four areas of key importance for Serbia's accession to the EU:
state administration reform;
protection of human and minority rights;
judiciary reform and
relations between Belgrade and Prishtina.
As it might have been expected, last point brought most attention from the audience. Delivering his concluding remarks, Savkovic stated how the perception – valid only several years ago – that Serbia has at its disposal capacities needed for a quick completion of negotiations – was rather too optimistic, and that many challenges still remain.
Both BFPE and its partner organization in Macedonia – the CRPM – are members of the Network of the CoE Schools of Political Studies.