Belgrade Fund for Political Excellence (BFPE), with the support of Organization for Security and Cooperation in Europe (OSCE) Mission in Serbia and the Office for Democratic Institutions and Human Rights (ODIHR) has initiated the meeting of prominent women politicians and activists from eight Balkan societies. The meeting took place in Budva, Montenegro, on September 4 and 5 2017.
20 prominent women from Ljubljana, Zagreb, Sarajevo, Belgrade, Podgorica, Skopje, Pristina and Tirana sat together in order to discuss possibilities and prospects for a new approach to politics in the Balkans.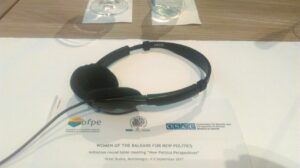 The primary goal of the meeting was to establish common ground (in terms of issues) for women from the region to gather around, agree upon, and possibly, advocate for in each of the eight societies.
During this two-day meeting, not only that participants were deliberating opportunities and challenges for this new approach to politics; they also considered how to bring a new narrative to the regional politics.