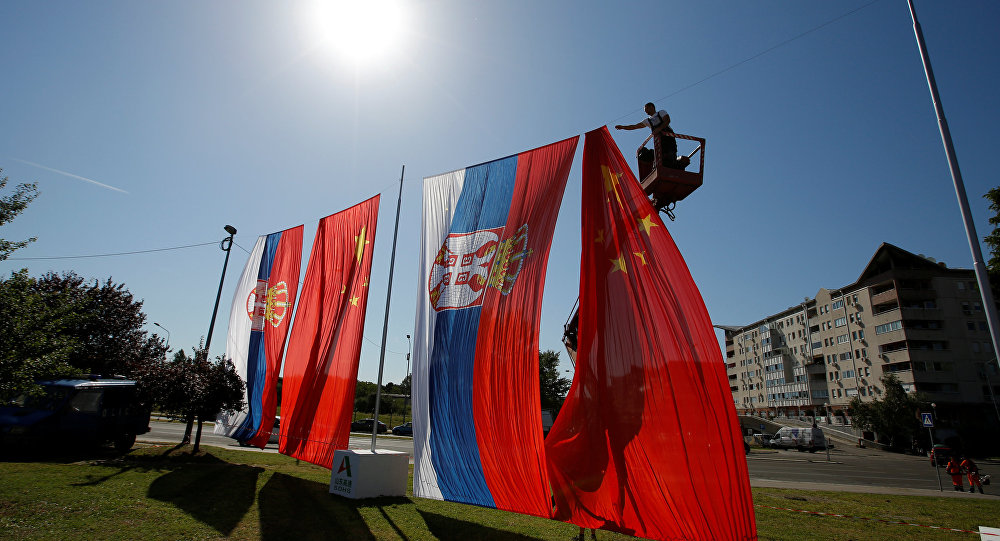 Increasing presence of Chinese companies in Serbia, the takeover of strategically important state-owned companies and signing of contracts between representatives of Serbia and China bring up the question of means that can be implemented to secure the fulfillment of agreed obligations on both sides. Also, it is necessary to question the consequences, both good and bad, which this contracts and agreements will bring.

In September 2018. the delegation of the Serbian government, led by the president of Serbia Aleksandar Vučić, was in an official visit to Peking. During this visit framework agreement was signed with China's Shandong Linglong Tire Co to build a car tire factory in Zrenjanin as well as an agreement with the Chinese company Zijin Mining Group to acquire 63% ownership of Serbian RTB-Bor mines were signed. A couple of other infrastructural agreements were arranged, including a deal with the Chinese company CRBC to build an industrial park. This visit cemented the ,,steel friendship", a term which is used by officials in Serbia and China to describe current relations between two countries. Trends of good cooperation in which Serbia receives necessary financial support and capital, and China gets better and a more proactive position in Serbia, Western Balkans and EU were continued with this visit.

Signed agreements and contracts, from Septembre and signed previously, secure the presence of China in strategically valuable branches of industry and economy at large. The importance of these agreements means that it's in Serbia's interest that they are implemented and that consequences of that are positive.

A small number of agreements between Serbia and China (or Chinese companies) are available to the public. This is not an exclusive feature for agreements signed with China. The public in Serbia has experienced a lack of transparent international agreements in the past (Belgrade Waterfront, Air Serbia, Aeroport Nikola Tesla). Labels of public or business secret most often disable us to have an insight into signed contracts and agreements until their implementation, and even after they are published certain parts are often partially or fully redacted.

Additionally, the legislative framework states that every international agreement has to be ratified in the National Assembly. However, this does not mean that they will go through the whole legislative procedure. Part of the agreement that went through the ratification process was ratified through an urgent procedure. This means that the opportunity for any kind of public debate and discussion about the agreement is much smaller. Problems are increased if we take into account that the ruling party has the majority in the Assembly and that there is very little chance for the agreement to not be ratified.
Serbia, as a candidate for membership in the EU, tries to harmonize its legal framework and foreign policy, including foreign trade policy, with the EU's policies. Through annual progress reports EU Commision evaluates conditions and obstacles in Serbia's journey towards the EU membership. In the report which was published in May 2018. and which covers the period from October 2016. to April 2018. it's stated that the Commission for Protection of Competition is the one in charge of securing fair competition in the markets. Importance of this Commision was depicted through a condition that Commission must approve the acquisition of RTB Bor by Zijin Mining Group after they won the public auction for it.

In comparison to other EU member states, Serbia doesn't have a concrete screening mechanism to inspect whether foreign direct investments threaten in any way the security and constitution framework of the country. However, different public officials have stated that every contract with China goes through some kind of scrutiny of EU institutions. Also, EU laws and guidelines affect Serbia-China agreements if the agreement includes an EU member state. Example of this is the agreement to build a railroad between Belgrade and Budapest. EU inquiries into the way in which terms of the agreement were negotiated slowed down the implementation and works on the railroad. The conclusion of this is that even tho Serbia is still only a candidate for EU membership Serbian government has to, up to a certain degree, respect the EU normative frameworks in cases of making and signing agreements with China.

According to Serbia's legal framework implementations and oversight of these agreements is in the hands of ,,public administrations authorities in charge of the sector which is covered by the agreement". Clauses of the agreement additionally decide further ways of oversight and implementation control. This can be problematic as in case of a loan for TPP Costolac B power plant and mine where any kind of disagreement will be decided through arbitrage in Beijing by Chinese laws which wasn't the practise so far when dealing with loans from other EU partners.

Signed agreements and contracts assure that China will remain for a long time in Serbia and in Western Balkans. Oversight and control over the implementation of this project and contracts are defined by the states legislative framework, by the necessity for harmonization with EU legal systems and Serbia's aspiration for EU membership, and finally by the terms agreed in the contracts. The way in which control would be exercised often depend on political decisions. The fact that China and Chinese companies are increasing its presence in strategically crucial sectors raises the significance of control. China has a high level of support and cooperation with officials in Serbia and this will remain unchanged in the future period.
Photo credits:
© REUTERS / Marko Djurica