The first debate in the series of five on the relations of Serbia and NATO Alliance under the title Serbia and NATO – Partners for Security was organized in Novi Sad on 13 April 2018. The event gathered more than twenty representatives of local self-governments, civil society, media and academic community. The keynote speakers were Marko Savković – Program Director of Belgrade Fund for Political Excellence, Aleksandar Simurdić – Vice-president of European Movement in Serbia, Branimir Filipović – Assistant Minister of Foreign Affairs for Security Policy and Cezare Marinelli – Chief of NATO Military Liaison Office in Belgrade.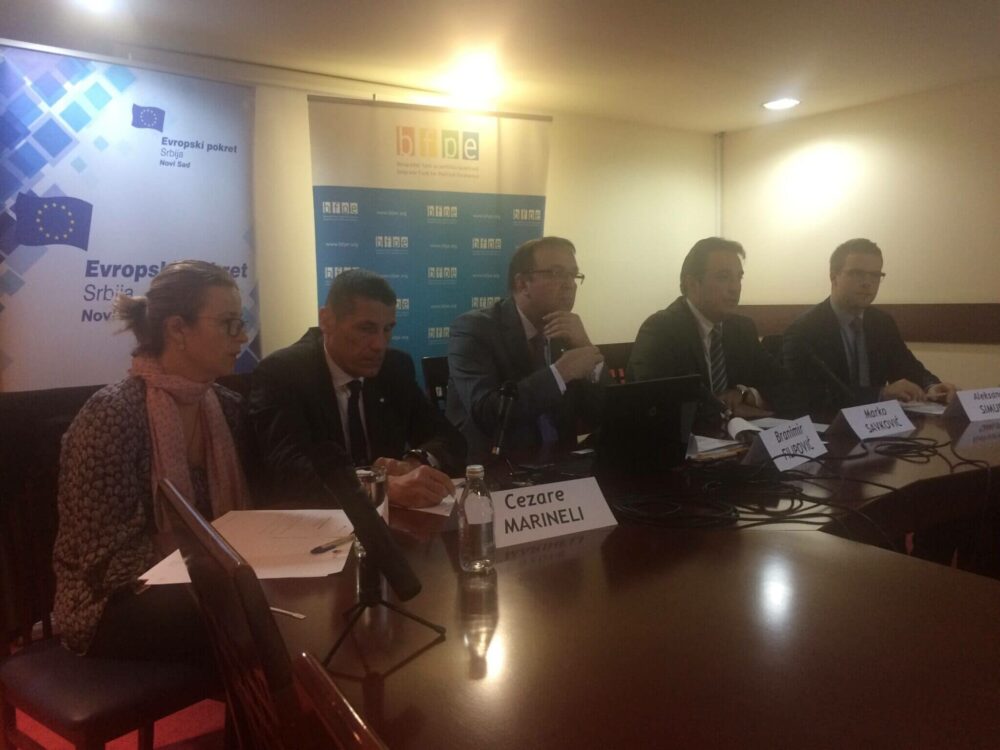 This event took place with the aim of organizing of serious and comprehensive debates on Serbia – NATO cooperation, as well as the consequences of this cooperation for security, political stability, economy, investments and development, as well as the public safety of citizens on local level. The topics for discussion varied from presenting the history of Serbia – NATO cooperation, over presentation of the official policy of Serbia on the cooperation with the Alliance to presentation of the activities Serbia undertakes within the Partnership for Peace program. Special attention was given to the possibilities that cooperation with NATO gives to the representatives of research and scientific institutions within the program Science for Peace and Security in which scientific institutions from Serbia already participate and with the support of this funding achieve significant results.
This debate was organized within the project A More Secure Region through Meaningful Partnership: Serbia-NATO Cooperation, Communicated Anew, which Belgrade Fund for Political Excellence implements with the support of the Royal Dutch Embassy in Belgrade. It is planned that these debates apart from Novi Sad will be organized in Novi Pazar, Užice, Kragujevac and Kruševac.