The Informal Green Parliamentary Group (GPG) held a thematic meeting on Tuesday, November 2, starting at 12:00 in the Green Hall of the National Assembly of the Republic of Serbia, dedicated to the EU's new climate goals and consequences they will have on Serbia.
The cause for the meeting is the United Nations Climate Change Conference (COP26), which is being held in Glasgow this year, from October 31 to November 12.
The new climate goals of the European Union, as well as their implications for Serbia, were presented to the members of GPG by Ms. Varvara Aleksić, a lawyer in the field of energy and a doctoral student at the Central European University in Vienna. She stressed, to the MPs, the importance that the current United Nations Climate Change Conference can have on shaping the direction of Serbia's climate policy. During the lecture and later discussion, the European Green Deal, the Green Agenda for the Western Balkans, and the legislative framework and goals of Serbia in the field of climate change emerged as the most important topics. Aleksić concluded her lecture by saying that it is necessary to open a broad social dialogue on the energy system development direction, followed by raising awareness about sustainable energy and the consequences of climate change.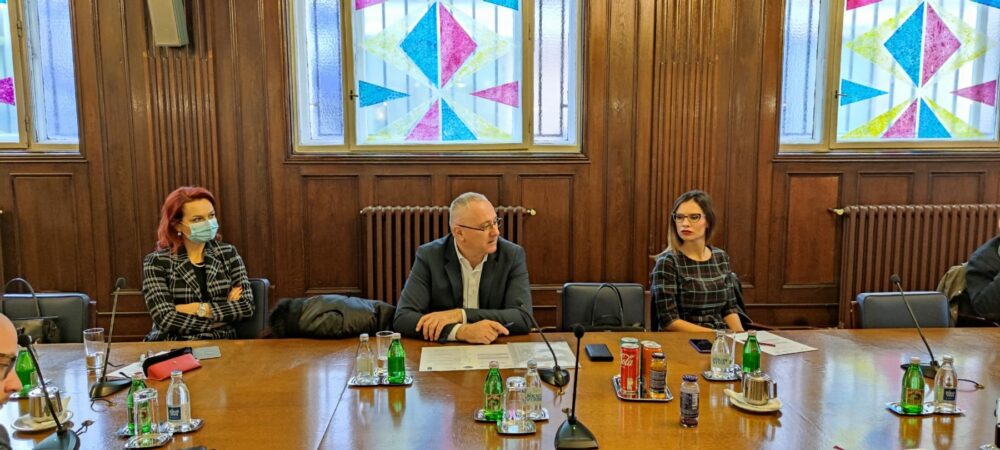 In addition to the EU climate goals, during the meeting, the Green Parliamentary Group in the Assembly of AP Vojvodina was also discussed, whose functioning was renewed at the session held on October 29, 2021. The establishment of the Green Parliamentary Group in the province was initiated in 2013 by organizations that are still the secretariat of the GPG at the national level. The present MPs were briefed about these topics by Ms. Lidija Radulović from the Secretariat of the Green Parliamentary Group and MP Mr. Tomislav Janković, who emphasized the need to create synergy between the provincial and national GPG.
The thematic meeting ended with a proposal by Lidija Radulović to launch an initiative for the organization of a public hearing on the topic of the climate conference in Glasgow. This proposal was supported by the present MPs, members of the GPG.
This thematic meeting was organised within the component Capacity Development of informal Green Parliamentary Group from South-East Europe on EU-compliant Energy and Transport Goals implemented by GIZ on behalf of the German Federal Government within the Open Regional Fund for South-East Europe – Energy, Transport and Climate Protection (ORF-ETC).