At the invitation of the European Movement in Serbia – local council Novi Sad, within the second Regional Youth Leaders Forum (RYLF), BFPE hosted the panel "The next generation: politicians we need."
Five of the younger generation of politicians, who previously took part in the Regional Academy for Democracy, discussed with participants of the second RYLF that was held in Novi Sad from 20 to 22 November. Hilmija Arnautovic (Sarajevo – SDA), Marko Filipovic (Croatia – Croatian SDP), Milan Tankosić (Gracac – SDSS), Zlatko Jankovski (Skopje – VMRO-DPMNE) and Annamaria Vicek (Novi Sad, SVM) presented their vision of modern politics and modern politicians, discussed the disappointment of citizens, populism and strength and weaknesses of political elites to initiate and carry out serious social change.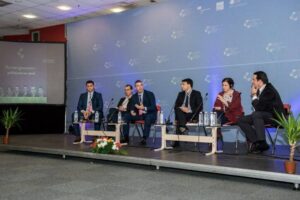 Lively discussion, which confirmed the existence of a serious gap between citizens' expectations and the results of various policy options in this region, included more than a dozen questions from the audience. These questions concerned nepotism, corruption, (undeserved) privileges but also ideas, ways of communicating and initiating social development through the implementation of party programs. The question was raised what this region offers the EU; that is, what if the prospect of accession gets further complicated. Each of the panelists tried to explain what (s)he is personally trying to do in order to change the approach of the party (s)he represents.
BFPE would like to thank the European Movement in Novi Sad and the European Fund for the Balkans as co-organizers of the second RYLF.