The Belgrade Fund for Political Excellence in cooperation with the Commissioner for the Protection of Equality, and with the financial support of the Royal Netherlands Embassy in the framework of the MATRA Program, held a meeting with representatives of local self-governments and politicians from local political parties in Paracin on February 28, 2019, For more women in decision-making positions. At this meeting we discussed the importance of gender equality at the local level of government; how to apply good practices in organizing women in politics; and we discussed the role of local mechanisms for gender equality and thought of potential allies in their affirmation.
The meeting in Paracin was opened by Sasa Paunovic, President of the Paracin Municipality, pointing to the fact that women are more systematic, composed and brave, but also more resilient to threats and pressure in politics. He emphasized that there are women in decision-making and executive positions in the municipality of Paracin, however that they are somewhat less represented in the municipal council.
Jelena Kotević, from the office of the Commissioner for Protection of Equality presented the results of research conducted in the municipalities of Serbia, which speaks to the fact that women are less represented in decision-making positions.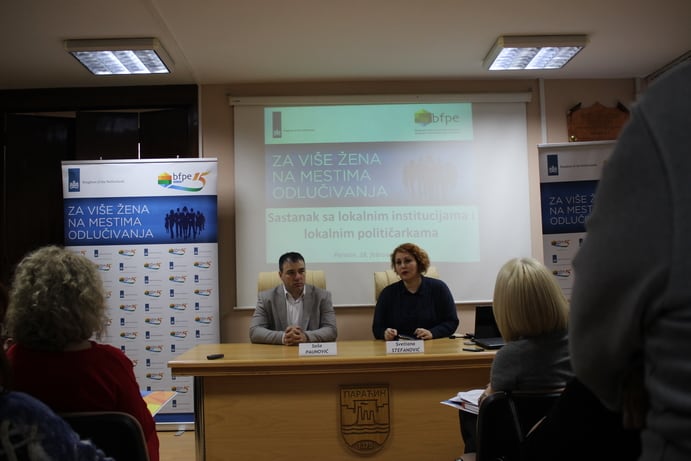 Visnja Baćanović, activist of the Women's Platform for Development of Serbia, spoke about the importance of gender equality at the local level. The introduction of a gender perspective in the work of working bodies in municipalities and cities is crucial, as well as using all available resources, and in particular existing gender equality mechanisms. She also pointed to various possibilities of cooperation at the local level, as well as potential topics around which women can join and work together.
Gordana Comic and Snezana Paunovic from the Women's Parliamentary Network of the National Assembly of the Republic of Serbia discussed from their personal experience. Both speakers addressed their beginnings in politics, motives, as well as the challenges that women face every day in politics, as well as the opportunities that actively open political activity. They also stressed the importance of co-operation and networking, as well as a joint approach to women-related issues.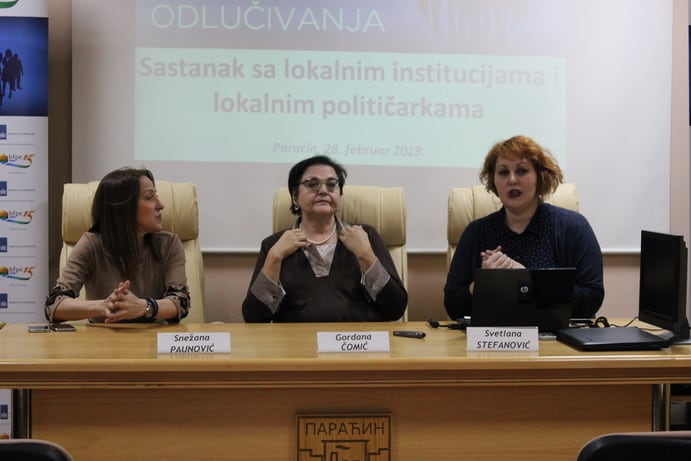 Members of the Commission for Gender Equality, representatives of the Youth Office, Local council for security, council for employment, members of the City Council, as well as representatives of public companies took active participation in the discussion. Representatives of political parties, as well as representatives of civil sector organizations from Paracin, joined in as well.