After four years of working with partners: D4D from Pristina, NGO Aktiv from Kosovska Mitrovica and Transconflict in Belgrade, the Belgrade Fund for Political Excellence project "Changing Minds: Trust Through Innovation", supported by the EU Delegation to Serbia, has been completed.
The main goal of this project was to contribute to the establishment of stable relations between Serbia and Kosovo through professional ties that go beyond the framework of daily politics. Over the past four years, we have worked to establish mutual trust and understanding between Serbian and Kosovo society by initiating cooperation between various professional groups, entrepreneurs and young IT professionals and innovators on both sides.
The project consisted of a series of activities carried out with the aim of: 1) establishing trust and initiating cooperation between different groups that are not directly related to political activities but are linked by a common professional interest and 2) present successful individuals from Kosovo to Serbian public opinion, as dangerous and bad prejudices and stereotypes would be broken and cooperation would be encouraged.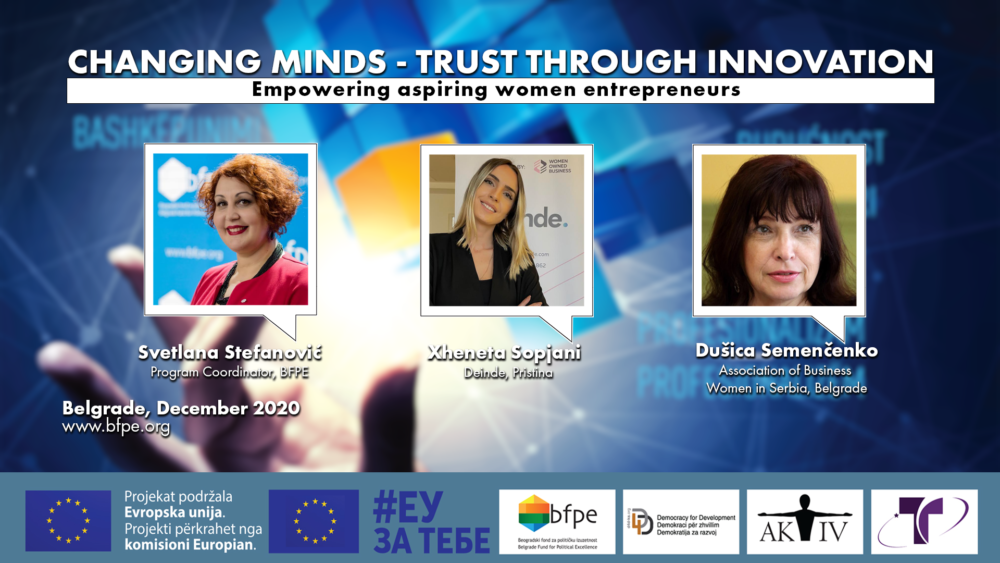 In the period from 2017 to 2020, the following activities were carried out:
5 expert symposia – 148 participants (for architects and urban planners, photographers, ecologists, writers and promoters of active tourism)
2 Hackathons – 56 participants (for young IT experts)
5 presentations of exceptional individuals – 137 participants (Uta Ibrahimi, the first woman from Kosovo to climb Mount Everest, Dokufest from Prizren and the Free Zone from Belgrade, Mitrovica Rock School and Rock Camp for girls from Belgrade, Roma activists Avni Mustafa – Roma Veritas Kosovo , Mimoza Gavrani – Roma Integration 2020, Jelena Reljic – activist and Osman Balic – YuRom center Niš, Women Entrepreneur Jasmina Savic from the Filigran Art Association from Kragujevac and Sanija Murati Director of the Balkan Women Association from Pristina)
2 Entrepreneurship Fairs – 49 participants (for women entrepreneurs and startups)
1 webinar – 31 participants (for startups)
2 podcasts – 5 participants (for entrepreneurs and startups)
Despite the difficulties we encountered as organizers during these four years, which were primarily a consequence of the political situation conditioned by the negotiations between Belgrade and Pristina, this project showed that there is a desire for cooperation between professionals of various profiles from Serbia and Kosovo, but also that there are specific projects that the public in Serbia could hear about. In that way, we have created some new business connections, but also pointed out the existing ones, which we believe are an insufficiently known example of successful cooperation and coexistence of the two communities.