Last night, in Bel Expo Center in Belgrade, Serbian Association of Managers (SAM) granted its Annual Awards for 2017.
SAM brings together over 400 members – professional managers in leading local and international companies in Serbia. SAM grants these awards with the aim of promoting companies, managers, educational institutions and journalists who advocate for better business conditions, professionalization of management, promotion of ethically and socially responsible businesses, as well as development of leadership among the youth.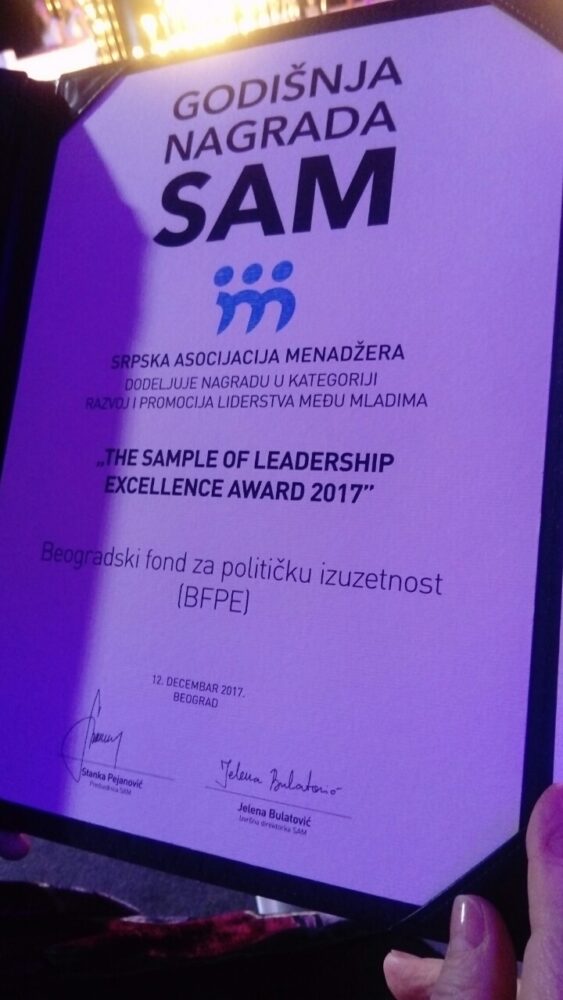 Belgrade Fund for Political Excellence (BFPE) is honored to receive SAMPLE Award for Promotion and Development of Leadership Among Youth – "The Sample of Leadership Excellence", by the decision of the members of Serbian Association of Managers. The winner of this Award was selected by young managers, members of the youth working group SAMPLE, with whom BFPE has many years of cooperation and whose representatives have been participating in our main educational program, Annual Seminar since 2013.
"This award is yet another brick in building the perspective for this society and preventing the departure of young people from Serbia", Sonja Licht pointed out at the award ceremony.
SAM also presented awards for the Manager of the Year 2017, Employer of the Year 2017, The Best Young Manager up to 35 years for 2017, Award for Personal Heroic Act, Award for Socially Responsible Company of the Year and Award for the Best Talent Development Program.