On Tuesday, 18 December, meeting of Informal Green Parliamentary Group was held to mark 20 years since the adoption of one of the most important acts in the environmental protection area – the Aarhus Convention. The meeting was opened by Lidija Radulović who on behalf of Group's secretariat presented the program of the meeting.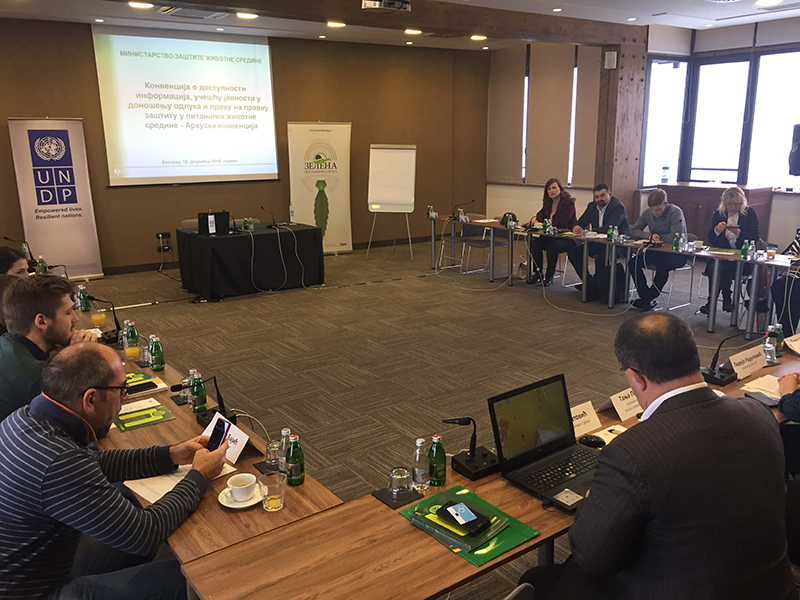 In the introductory part of the meeting representatives ofMinistry for environment protection and head of Department for impact assessment Sabina Ivanović and Tina Janjatović had opening remarks with specific emphasis on the significance of Convention principles in the areas of information transparency, decision making and the right to legal protection in matters concerning the environment. It was stated that Serbia has made progress in its legislative framework, but also that an additional set of regulations will have to be adopted until the end of 2019. Coordinator of the Green Parliamentary Group, MP Nada Lazić pointed to the problem of low conviction rate for breaking the regulations in this area as well as small fines which do not send the right message.
In the rest of the meeting, the conversation dealt with the questions of how much has been done in the nine years since the adoption of the Aarhus Convention and what are the ways to advance its implementation. Professor Mirjana Drenovak Ivanović from the Law Faculty in Belgrade stated that transposition of EU regulative into the domestic legal framework is planned to end until 2021, but there are 104 acts which are waiting to be implemented before that goal is reached. She also presented the Legal clinic as a mechanism which can contribute to a better understatement of environmental framework between lawmakers.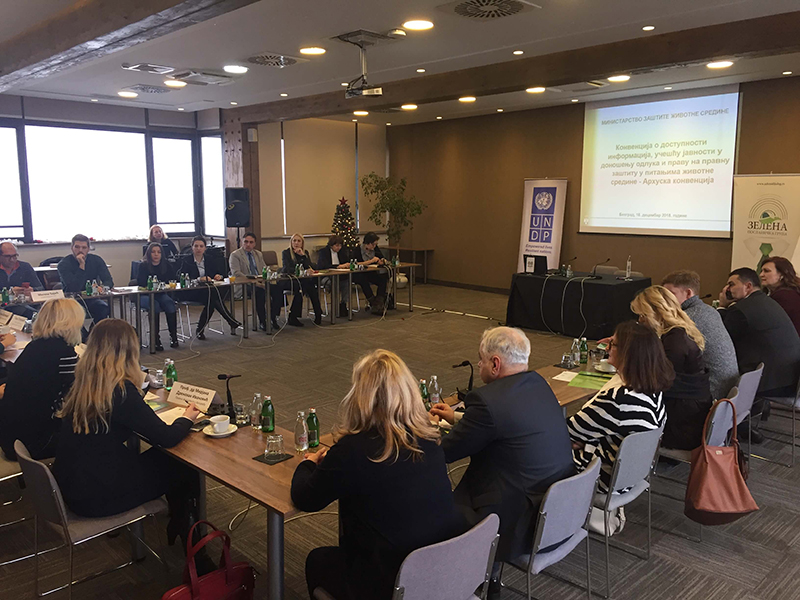 Tanja Petrović, Executive Director of Young Researchers of Serbia, presented problems in the implementation of three pillars in the Aarhus Convention.
Srđan Matović, representative of Aarhus Center Network in Serbia said that the problem is in the lack of financial resources and that there is a need to rethink how to invest the resources gathered from the polluters. It was highlighted that more work should be done on the prioritisation of this topic because it affects the lives of all citizens.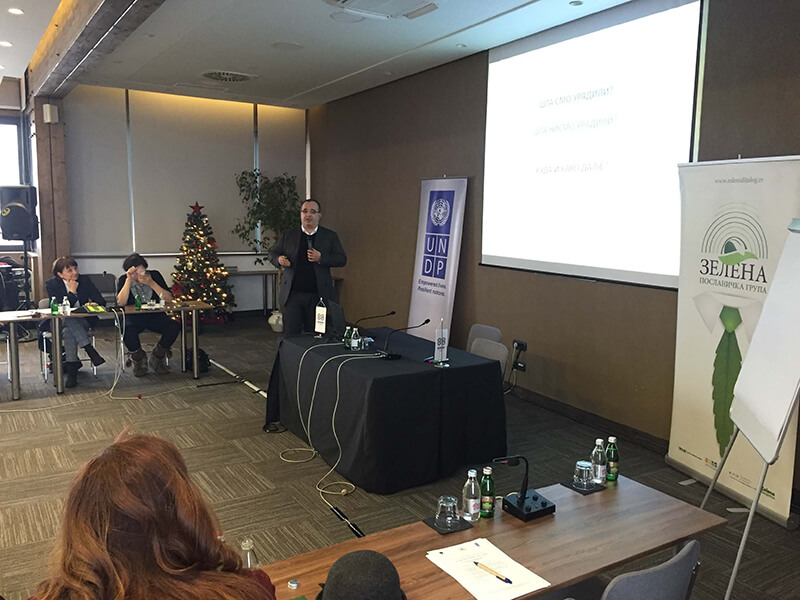 One of the conclusion was that it is necessary to raise awareness of environmental protection in the population, especially through primary and secondary education as well as education of the judiciary. Also, the conclusion was that cooperation between different sectors is necessary for a more comprehensive approach to the topic.
Participants further discussed the bad practice ofmini-hydropower plants and their devastatingeffect on the natural resources of our country.
In the meeting 11 MPs and members of Green ParliamentaryGroup and Board for environmental protection participated. 
T​his activity was realized with the support of the United Nations Development Programme Office (UNDP) for the work of informal Green Parliamentary Group which is financed by the Global Environmental Facility (GEF).