Belgrade Security Forum (BSF)
Belgrade Security Forum certainly represents one of our most significant achievements – starting in 2011, four successful international conferences have been held at the highest level, with the inaugural forum posing the question What Brings Us Together – What Sets Us Apart? – and by that referring to the region's ever present strategic anxiety.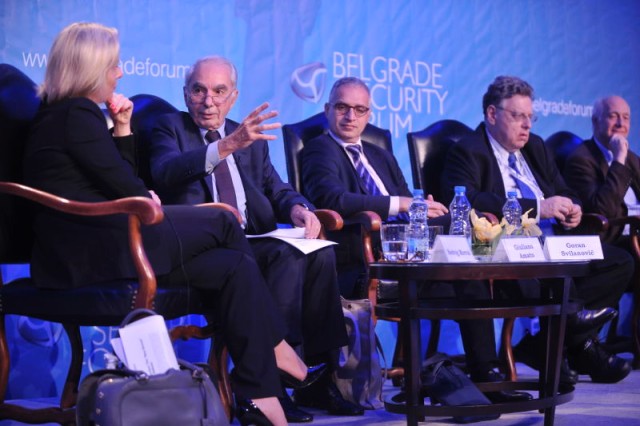 BSF – now an acronym that is known to many – holds today a firm place on the European map of major security events, right along with the Brussels Forum, GLOBSEC in Bratislava, or the Riga conference.
Organized in cooperation with the Belgrade Centre for Security Policy and the European Movement in Serbia, the BSF has quickly become a point of interaction between the regional security community and European and world leaders, intellectuals and opinion makers, as well as a place of creative exchange and provocative debate about the future.
The purpose of the Belgrade Security Forum is threefold:
To bring the European and global security debate to the Balkans;
To discuss Balkan security issues within the European and global security framework; and,
To present Balkan achievements and dilemmas to the participants in the European and global security debate.
BSF is in many different ways supported by numerous partners and donors. For more information, visit its website www.belgradeforum.org.
Program Events
Every year, BFPE organizes more than 50 events: conferences, round tables, panel discussions, workshops and simulations. Find out more.
As a part of this program
All of our program activities in one place; ideas; analysis; policy proposals; reports from conferences and events that we have organized.